By Paul Barry | Assistant Buyer: Beer & Spirits
Throughout the year on hillsides, in by-ways, and forests of Glendalough and wider Wicklow you will find Glendalough Distillery's full-time forager, Geraldine Kavanagh, busily searching out the freshest botanicals for their gins. Last week a team from O'Briens were lucky enough to tag along on one such trip in to the Wicklow Mountains.
At first, we are confronted with a wash of green foliage however guided by Geraldine we soon discover a wealth of ingredients all around us. Geraldine brings an abundance of foraging experience, easily picking through and explaining the wild flora, somewhat of a revelation to these untrained eyes. What began as a trial with locally foraged ingredients has developed in to a full-time position for Geraldine, searching out fresh seasonal ingredients nine months of the year.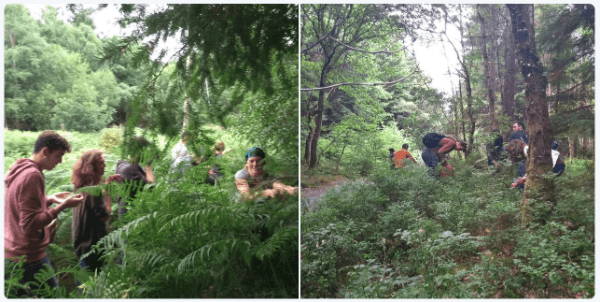 Originally Glendalough distilled a gin reflecting each season, however, following many requests for a year-round gin they have added their Wild Botanical gin. Their desire was to produce a gin that would reflect the aromas and flavours available in hedgerows and hillsides across the seasons. Quite the undertaking as it requires freshly picked botanicals gathered throughout the year, especially when you consider how varying weather conditions affect with can be foraged, such as a downpour of rain that washes away the flavours from delicate wild flowers.

With a newfound insight and appreciation in foraging, along with a few baskets of botanicals, we moved to the distillery. Here the freshly picked botanicals go straight in to the still. They are steeped in neutral grain spirit overnight before distilling in the following day in their beautiful copper-pot still, affectionately named Cathleen. The distilling is a hands-on process with distiller, Rowdy Rooney. As they are distilling with fresh natural ingredients he must decide by taste and smell when to make the cuts to produce the cleanest and purest tasting spirit. The fresh and natural nature of the ingredients also makes the final blend so important, combining classic base botanicals like juniper, angelica and coriander with the locally foraged ingredients.
You can test the benefit to all this work with the Wild Botanical gin this is a beautifully balanced medley of aromas and flavours, from herbal to floral to fruity. This gin moves from spring aromas of citrus, pine and juniper to flavours of cool summer flowers and autumn fruit, finishing with warming winter spices. Try it with basil and pink grapefruit, enjoy.
Please note prices are correct at time of publishing, please check our website or stores for the most up-to-date pricing.