By Lynne Coyle, Master of Wine | O'Briens Wine Director
What is the O Briens Wine Compass?
The O'Briens Wine Compass is a unique tool to help you explore the exciting world of wine.
With over 1,000 wines on our shelves, knowing which bottle to buy next can be confusing, so we have designed the Wine Compass to help you navigate the wonderful world of wine, making it easier to discover new wines we know you'll love!
We have condensed all of our white and red wines into six convenient categories that each share common characteristics. For example, if you love a dry refreshing Sauvignon Blanc on a warm summer evening, we know you'll love Albarino Contrapunto; it's fine and fruity with a pleasant floral note. If you know you love one wine, it's easy to discover something new with the flavour charastics you know you love.
The broad world of wine offers endless exploration, so use our unique Wine Compass to help you navigate your wine journey!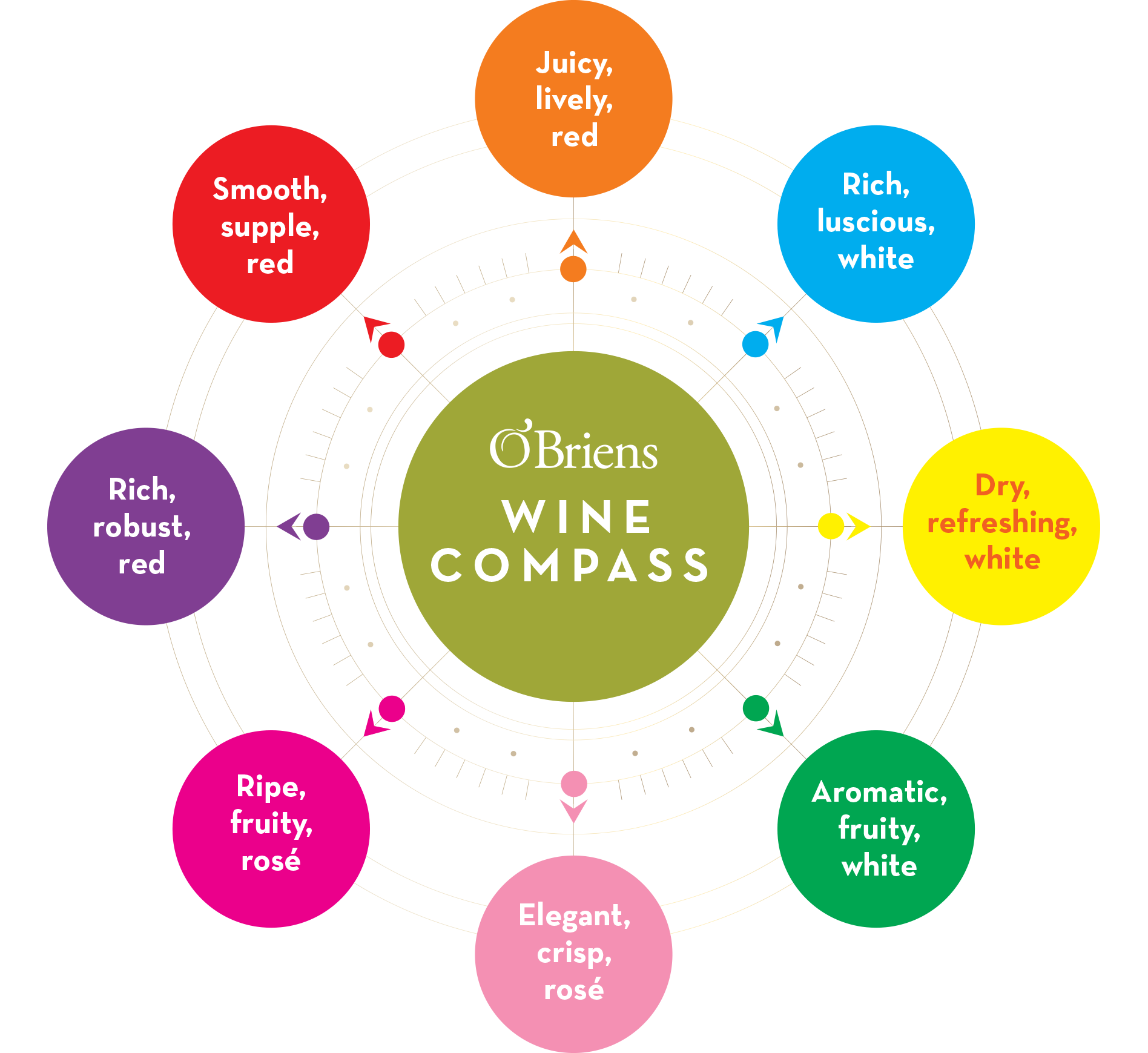 ---

What is a Dry Refreshing White Wine?
Dry wines with a moderate aroma profile and light to medium body. These wines are easy-drinking in style with nosignificant oak influence, refreshing acidity and good primary fruit flavours.
Green apple / Green Pear / Lemon / Lime / Greengage / Honeydew melon
---

What is an Aromatic Fruity White Wine?
Wines with powerful aromatic profiles, with a heady bouquet of fruit, flowers or herbs. The aromas come from natural compounds in the grape variety and this fruity style of wine can be found in dry and off-dry styles.
Grapefruit / Red Apple / Apple Blossom / Bell Pepper/ Basil / Goosberry
---

What is a Rich Lucious White Wine?
The most full-bodied and richly textured dry white wines.
Many will have a significant influence from the winemaker,
such as oak fermentation,barrel ageing and extended
lees contact giving a luscious mouthfeel.
Honey / Mango / Butttered Toast / Qunice / Pineapple / Lemon
---

What is Juicy Lively Red Wine?
Lighter in tannin and body, usually with noticeable fresh acidity and bright juicy fruit flavours. These lively wines are generally from cooler climates, do not express a heavy oak influence and are often made to be drunk young.
Raspberry / Strawberry / Red Currant / Cranberry / Lavendar / Nutmeg
---

What is Smooth Supple Red Wine?
Easy-drinking, medium-bodied red wines, darker in colour with
moderate tannin levels and soft, smooth, supple fruit flavours
that tend to lean towards darker fruits. They will often express
some subtle use of oak.
Blackberry / Cherry / Blueberry / Thyme / Vanilla / Nutmeg
---

What is Rich Robust Red Wine?
The heaviest and most full-bodied red wines with a rich,
robust body and rich, ripe fruit flavour profile. They will often
have higher alcohol and tannin levels and many will have a
significant influence from the winemaker, including extended
oak ageing.
Blackkcurrant / Black Olive / Plum/ Cinamon / Vanilla / Espresso
---
Lynne Coyle MW is O'Briens Wine Director and sources and selects our wine and Champagne range. One of only 420 Masters of Wine worldwide, she has dedicated her career to the food and drinks industry. Lynne also writes, judges at international wine competitions, is a Wine & Spirit Education Trust Certified Educator and makes her own wines in Spain.