By Paul Barry | Assistant Buyer: Beer & Spirits
Winter is certainly upon us; cold, wet and dreary, perfect cider weather you might say. Cider is often seen as a thirst quencher when served in a glass filled with ice on a sunny summer afternoon, but craft cider can be so much more. So, ditch the ice and just serve your cider chilled to fully enjoy the complex aromas and flavours on offer. If you do need some warming up on these cold winter nights, why not spice it up with some mulled cider? Add some all spice, a slice of orange studded with clove and gently warm for a luxurious winter warmer.
---
Quality craft cider is made by fermenting pressed juice from apples, in this way it is much like wine making. Like white wine, cider can be enjoyed all year round. Also, much like wine, Irish craft cider reflects the area it comes from and the people who make it. We have an abundance of fantastic cider makers across the country, here are just a few.
---
The orchards of MacIvors Cider were first planted in 1855, in "Orchard County" Armagh, and they actually still have a tree from then, still bearing fruit. Since then, apple-growing has been passed down through the generations to Greg MacNeice, who is the current residing cider maker. The blend of apples going into the ciders change depending on the harvest itself, but around 14 different varieties go into their cider. From your Michelin and Dabinett cider apples (called spitters as they are so acidic) to your sweet red Katy apples and old varieties as well. MacIvors make a traditional dry and medium ciders. They also make a great Plum and Ginger cider. As the name implies, they take their medium cider and add plum and ginger juice for a rounded fruity flavour with a spicy finish. Their latest release is the Juicy Session cider, a thirst-quenching, easy drinking, medium-dry cider in can.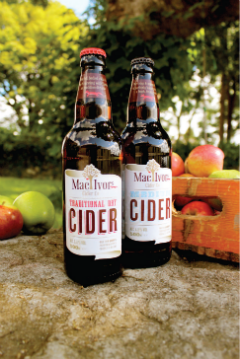 ---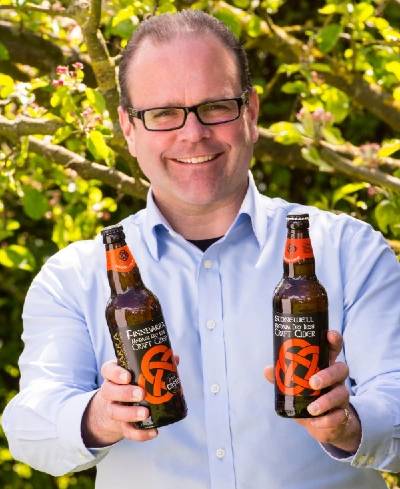 Stonewell Cider is situated in Nohoval, Co. Cork. Here Daniel Emerson's family had made cider from their small orchard in for many years. However in 2009, Daniel together with his French wife Géraldine, set out to expand and become full time cider makers. All apples are bought from orchards across Ireland, blending different varietals to create their signature house style as well as superb, limited releases. Their Medium Dry cider uses a high content of eating apples to bringing candied apple and baked apple tart flavours. For a dryer style of cider try out Stonewell Dry which leans towards the bittersweet varieties of Dabinett and Michelin. It is crisp and fresh with delicate fruit flavours drawn out through the use of naturally cultured champagne yeast. Also, if you are on the look-out for a great non-alcoholic cider then Stonewell is the one to get.
---
Longueville House Cider is situated on the gentle slope of the Blackwater river valley. Current proprietor William O'Callaghan and his father Michael before him have been fermenting exceptional craft cider and distilling Ireland's only Apple Brandy here for almost 35 years. The free draining loamy limestone soil is perfect for the 20 acres of Dabinett and Michelin apple trees. Their cider is naturally fermented by yeasts on the apples themselves and in the atmosphere over a period of two to six months. Their House cider is intense and refreshingly clean and crisp. Their Longueville Mór is fermented and aged for one year in their Apple Brandy casks. This 8% abv cider is full and well rounded with a complex taste, yet, exceptionally soft.