By Lorcan O'Brien | Wine Content Specialist
Spain is one of the most exciting and diverse wine countries in the world. As much as we love Rioja here at O'Briens Wine, this Spanish Food and Wine Week we encourage you to invoke your inner Iberian and explore lesser known regions, and try some of these typical food and wine matches. You never know, you may discover a new favourite wine style. Salud!

Galicia may be best known for producing crisp and aromatic Albariño, but this diverse region on the northwest Atlantic coast has many other exciting local varieties.
Tolo do Xisto (meaning 'Mad About Slate') is an exciting boutique wine project highlighting the quality of the local Mencía grape when grown on the local slate-rich soil. The grapes for this wine come from the precipitous slatey vineyards overlooking the River Síl, in the hills above Santiago de Compostela. It offers fresh, juicy red berry fruit and wonderful fresh acidity, framed by ripe grippy tannins from the careful use of high-quality oak. Look for the distinctive slatey mineral cut on the long fresh finish.
Food Match:
This wine is ideal for a casual tapas dinner. Think a diverse spread of small classic dishes, such as prawns pil pil, patatas bravas and tortilla Española.
---
---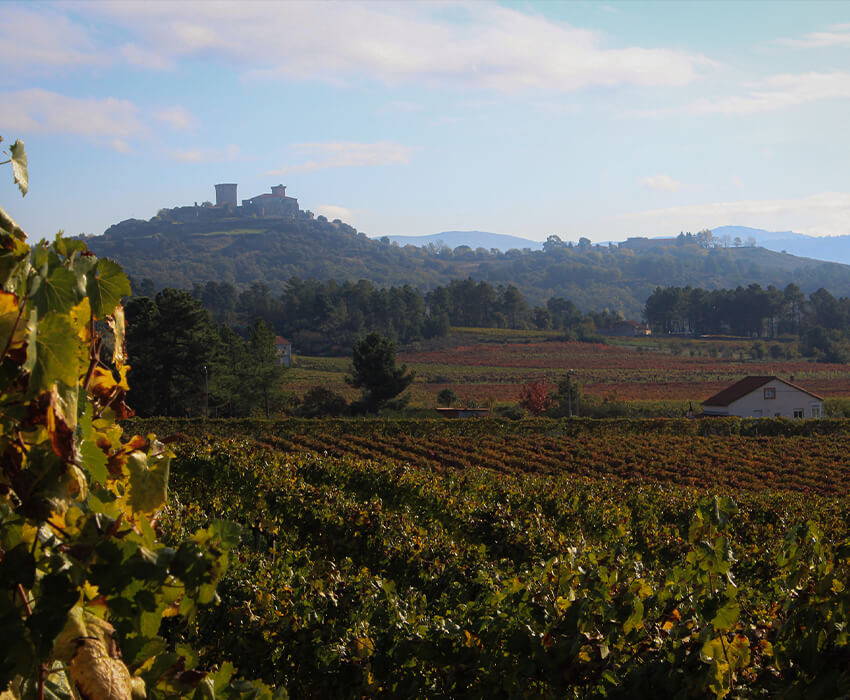 ---

Godello is another Galician gem of a grape that is getting more popular with our customers. It is quite different to Albariño, offering more moderate acidity and subtler flavours than the up-front citrus and saline notes of the Albariño grown near the coast. However, it tends to make a more textured wine, which pairs wonderfully with
Alma Godello is made by Pazo do Mar, an innovative family winery based in Monterrei, a small region within Galicia on the Portuguese border. The Godello grape is known for its complexity balanced by finesse and elegance. Alma Godello is a fresh lively wine with aromas and flavours of red apple, pineapple and lime zest underpinned by a crisp backbone and a distinct stone fruit note.
Food Match:
Godello's subtle fruit and wonderfully textured palate makes it a versatile food wine. Try it with Ibérico pork chops or a smoked paprika-crust roast chicken.
---
Altos de Luzón is made by the family-owned Bodegas Luzón in Jumilla. One of the top awarded wineries in the region, their Altos is made from 100% Monastrell which thrives in the warm, dry continental climate.
Altos de Luzón is rich with ripe blackberry fruit, complemented by integrated toast and sweet spices lifted from the twelve months ageing in French and American oak barrels. Bodegas Luzón was established in 1841 and specialises in growing Jumilla´s Monastrell grape. The estate is now owned by the Fuertes Family, who have invested heavily in the vineyards and winery.
Food Match:
There is a natural earthy quality to the Monastrell grape that pairs really well with a wide range of red meats, but it is ideal for a roast shoulder of lamb, served with roast potatoes, and a caramelized onion, blackberry and red wine gravy. As typically Irish as this sounds, this is a dish found all over Spain, ideally cooked over freshly pruned vine cuttings.
---
---

Montsant is not a well recognised wine region, but is something of a trade inside secret. The entire region surrounds the smaller Priorat DOQ, which is one of the most iconic (and expensive) wine regions in Spain. So, essentially it is an extension of Priorat, where similar grapes, soil and even the same winemakers can be found.
Jaspi Negre, is another boutique project from our long-time partners Coca I Fitó (who also bring us the Tolo Do Xisto wine above), and is a fantastic example of all that is good about modern Spanish winemaking. Expect incredibly pure dark-berried fruit, a touch of good oak and a long mineral-accented finish. Aged 3 months in oak barrels and then rested for one year in underground concrete tanks to gain balance and integrate the tannins.
This is a very accomplished wine for the price.
Food Match:
This is a delicious match for a mildly spiced chorizo and chickpea stew. An autumnal hug on a plate!  
---

This is a truly rare and off-the-beaten track wine, from the small wine region of Montilla-Moriles in the centre of the southern Spanish state of Andalucía. It is made with the Pedro-Ximenez grape, which is more often known for its sweet wines, but this Amontillado is dry.
It is made by the historic Toro Albalá winery and is drawn from a foundation solera, dating to 1922. This essentially means this wine will have a miniscule amount of 99 year old wine in each bottle! It is highly aromatic, with a dried fruit, savoury pastry and spiced character. The palate is mineral-driven, elegant and persistent with nuances of the old wood in which the wine has been ageing. A clear oxidative character of almonds and hazelnuts on the long finish.
This is truly one of the great and unique wine styles of the world.
Food Match:
Pairing the dry wines of Sherry and Montilla-Moriles with food may seem intimidating, but these are some of the most forgiving, food-friendly wines in the world. You can't go too far wrong if you keep in mind the popular Spanish phrase:
'If it swims, fino; if it flies, amontillado; if it walks, oloroso'.
However, these wines are open to a lot of experimentation, so I I would as readily recommend this Amontillado with a meaty fish, such as Tuna steak or Swordfish, as I would pair it with roast chicken or game, such as pheasant or venison. The bolder the flavours, the better this wine will show, so don't be afraid to experiment.  
---
---
Lorcan is O'Briens Wine Content Specialist, charged with spreading the wine word and keeping our customers and staff up to date with news of our wines and winemakers through his dedicated and passionate writing. Previously an O'Briens store Manager, Lorcan has written about wine in Ireland and Spain and is currently studying for the WSET Diploma. In his spare time Lorcan hosts wine tastings, blogs about wine and judges in wine competitions.
---
*Pricing correct at time of publishing. For the most up to date prices see our stores or website.