One of our most exciting listings comes with a seriously long history! The Lingenfelder family have grown grapes in the Pfalz region of Southwest Germany for close to 500 years. Current custodian of these vineyards is 13th generation owner/winemaker, Rainer Lingenfelder, and the 14th generation, Rainer's sons Georg and Karl proudly represent the family winery at our wine festivals.
Rainer takes a minimalist approach to winemaking – indigenous yeasts are used, malolactic fermentation is blocked and he doesn't fine nor stabilise his wines. Rainer uses a few large 100-year-old barrels to age some of his wines. These neutral barrels no longer impart any oak flavour but lend texture and a slight creaminess.
So if you are looking for something slightly left of centre, but feel that German wines are old-fashioned in style or maybe just not for you, I implore you to try one Rainer's wines below, they really are like a breath of fresh air and I found one and all to be thoroughly delicious!
Bird Label Riesling is a crisp, refreshing wine which is at first wonderfully floral on the nose and finishes with peachy fruit on the palate, making it an excellent wine choice to partner mildly spiced Asian dishes.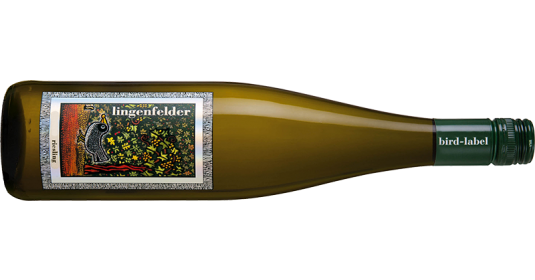 Hare Label Gewürztraminer - the hallmark of Gewürztraminer and the Hare-Label in particular, is its attractive, perfumed lychee / rose pedal / orange blossom character. A perfect match with Asian inspired dishes.

Affectionately called 'shoy' by the growers in Pfalz, Lingenfelder Scheurebe is a noble crossing of Riesling and Sylvaner. In many ways this grape variety is like Germany's answer to Sauvignon Blanc, with a wonderfully citrusy character, particularly pink grapefruit.

Lingenfelder Dornfelder is a modern crossing which is uniquely suited to the cool climate conditions of German vineyards. Packed full with red berry fruit and soft round velvety tannins, this delicious example is reminiscent of good Pinot Noir.