By Lorcan O'Brien | Wine Content Specialist
Last May we had a look at French Sauvignon Blanc, so today it's the Kiwis' turn to steal the limelight, as I take a look at Marlborough Sauvignon Blanc, and in particular the stunning wines of our long-time partners, Astrolabe Wines.
---
The first written record of grapevines in New Zealand dates back to 1819, when, after planting his own vines, missionary Samuel Marsden confidently announced,
    'New Zealand promises to be very favourable to the vine, as far as I can judge at present of the nature of the soil and climate. Should the vine succeed, it will prove of vast importance in this part of the globe.'
Unfortunately for the luckless Marsden, his own vineyard was destroyed later that year by a marauding trip of voracious goats, but his prediction has proven prophetic.
Although New Zealand accounts for less than 1% of the world's supply, its wines rank amongst the most admired in the world. From Central Otago in the foothills of the Southern Alps, to the windswept Waiheke Island in the far north, most of the world's most popular grape varieties have found a suitable home somewhere in the varied New Zealand landscape.
However, it was the marriage of the Sauvignon Blanc grape with the Marlborough terroir that laid the foundations of the country's success.
---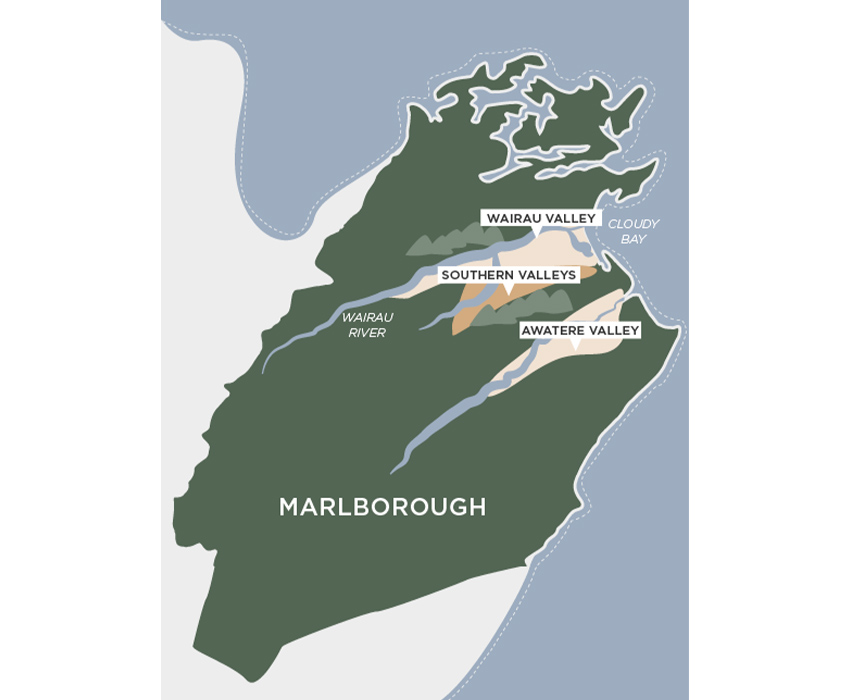 Marlborough is located on the northeastern tip of New Zealand's South Island and is undoubtedly the most important wine region in the country. But up until the late 1970s the region was better known for grazing sheep than growing grapes. The beginning of its global success only dates to the late 1980s when pioneering producers (such as Cloudy Bay) proved the exquisite potential of the region's Sauvignon Blanc.
The climate in Marlborough is ideal for growing Sauvignon Blanc: it is cool enough to retain the grape's vibrant acidity, and natural fresh citrus and green fruit flavours, whilst enjoying enough sunshine hours to develop the bright tropical fruit flavours characteristic of the region.
However, not all Marlborough wines are made equally and an exciting generation of winemakers are experimenting with new grapes and styles within the following sub-regions of Marlborough:
1. Southern Valleys: Heavier, clay soils and noted for its Pinot Noir, but the Southern Valleys are seeing experimentation with a broad array of grapes, including Chenin Blanc.
2. Wairau Valley: Dominated by old, gravely riverbed soils. The wines tend to offer more fruit intensity and body.
3. Awatere Valley: Cool, dry and windy climate, typically producing bright, aromatic Pinot Noir and dramatic, distinctive Sauvignon Blanc.
4. Kékerengú Coast: On the southern coast of Marlborough: a narrow stretch of limestone soil between the sea and mountains, with a strong oceanic influence.
---
With 27,800ha of vineyards, Marlborough accounts for over two-thirds of the total vineyard area of New Zealand, but still relatively modest in size, as it is less than one quarter the size of Bordeaux (120,000 ha).

Sauvignon Blanc is by-far the dominant grape variety in Marlborough, accounting for over 22,000ha of the 27,800ha of vines. It is followed in popularity by Pinot Noir (2,660ha), Pinot Gris (1,160ha), and Chardonnay (1,080ha).

Sustainability is an integral part of the New Zealand wine industry: 96% of New Zealand's vineyard area operates under independently audited sustainability programs.

Organic viticulture is increasingly important, with 10% of New Zealand 's wineries holding organic certification​.

New Zealand has no nuclear power stations, and over 80% of its electricity is from renewable sources, with a goal of 90% by 2025.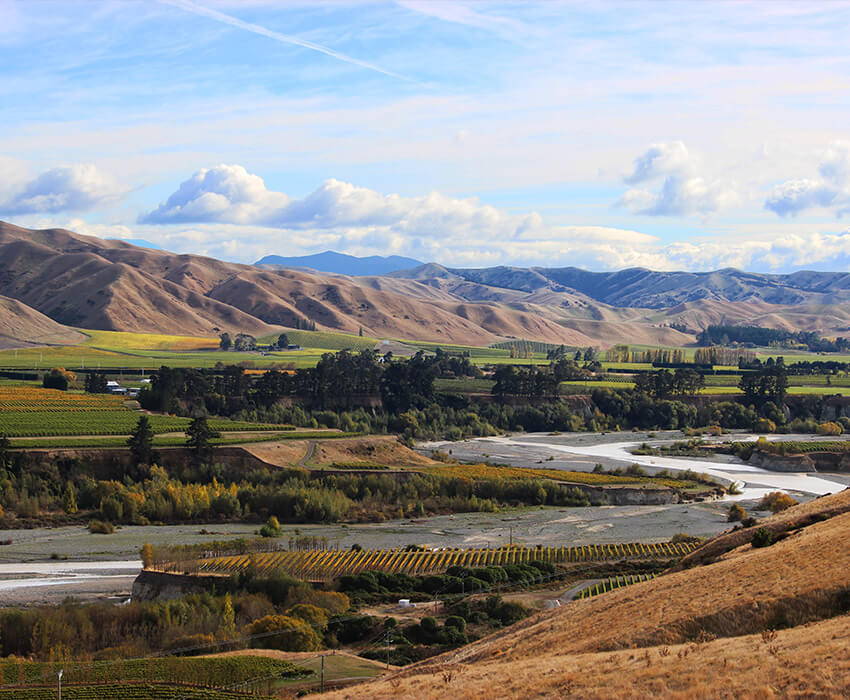 ---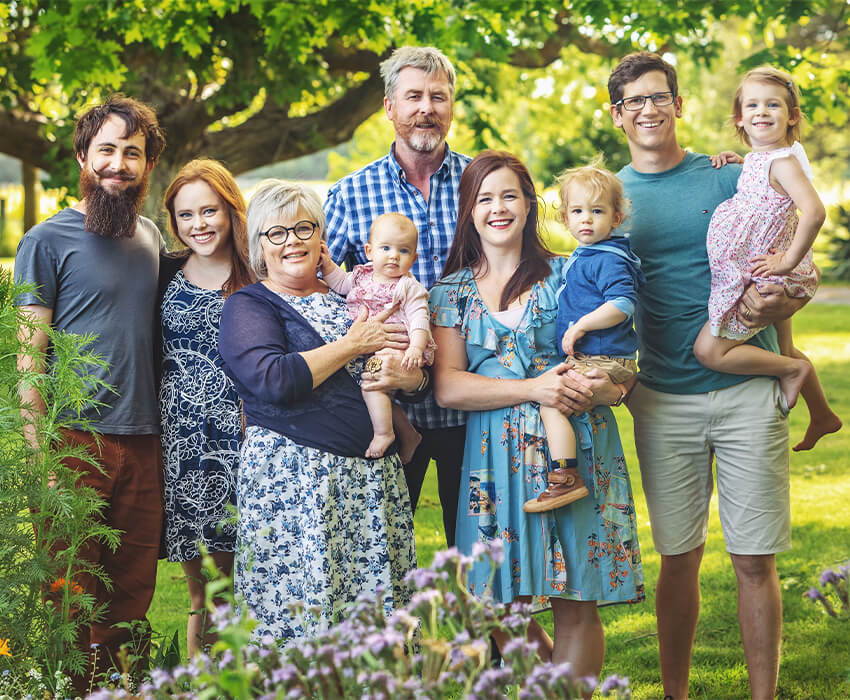 Three generations of the Waghorn family
Astrolabe Wines are one of our long-time New Zealand partners. The winery is fully owned and operated by the Waghorn family, with parents, Simon and Jane, joined by their two daughters, Lilly and Arabella, in the day-to-day running of the business.
Simon Waghorn has almost 40 years experience making wine in Australia and New Zealand, and credits his award-winning range to careful vineyard site selection, meticulous harvest timing, and delicate grape handling: both in the vineyard and in the winery.
The name of the winery is taken from an ancient astronomical instrument, used to help mariners navigate. It was also the name of a French ship that first charted the Marlborough coast in 1827. Simon enjoys the connotations of exploration and discovery.
---

It was with this wine that Simon Waghorn built his reputation and cemented him as one of the most meticuous winemakers in Marlborough. The Sauvignon Blanc grapes for this wine are sustainably grown across the three sub-regions of Marlborough: Wairau Valley, Awatere Valley and the Kékerengú Coast. Marrying grapes from different locations allows Simon to best express the varied and complex terroir of Marlborough. The grapes are harvested at night to retain the fresh varietal character and wonderful aromatics, bursting with passionfruit, lemongrass, gooseberry and citrus fruit flavours, before a deliciously dry, mineral finish.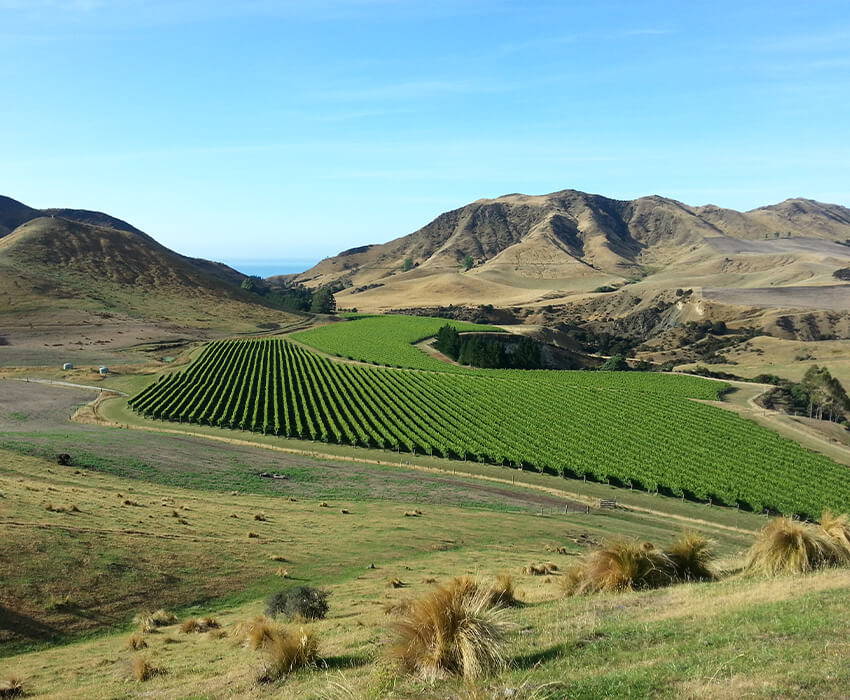 ---

The Kékerengú Coast is a distinct region on the southern coast of Marlborough: a narrow stretch of limestone soil between the sea and mountains. This combination of location, soil, and climate is distinct from the rest of Marlborough, offering a unique expression of the Sauvignon Blanc grape.
Simon Waghorn crafts this wine from two vineyards along the Kékerengú Coast. A portion of the hand-picked grapes are fermented in oak barrels to give a unique and wonderfully textured wine. Expect lifted gooseberry, lemon, and green apple aromas. The palate is bone dry with a crunchy chalky minerality framing the just-ripe green berry fruit profile, before a distinctly saline note on the finish, evoking the coastal location of the unique Kékerengú Coast vineyards.
"For me, nothing screams the success of screw caps more than New Zealand Sauvignon Blanc. The Astrolabe vintage from Kekerengu Coast is a touch different to the more tropical fruit Sauvignon Blancs. A portion of the grapes were fermented in oak barrels, which adds an interesting complexity and structure. Containing citrus acidity, this is fresh and fruity with a good saline base- worth seeking out."
- Cathal McBride, Sunday Business Post
---

 

Sauvignon Blanc is not the only grape grown in Marlborough that is gaining global attention. Pinot Noir, which is regarded as one of the most difficult grapes to grow, produces intensely flavoured wines with an elegance that would appeal to any lover of fine Burgundy.  

The Astrolabe Pinot Noir displays impeccable balance, with refreshing acidity and silky tannins, it is fragrant with a purity of ripe wild berry fruit that makes this wine sing across the palate. 11 months in French oak adds a smoky complexity on the lingering finish.
---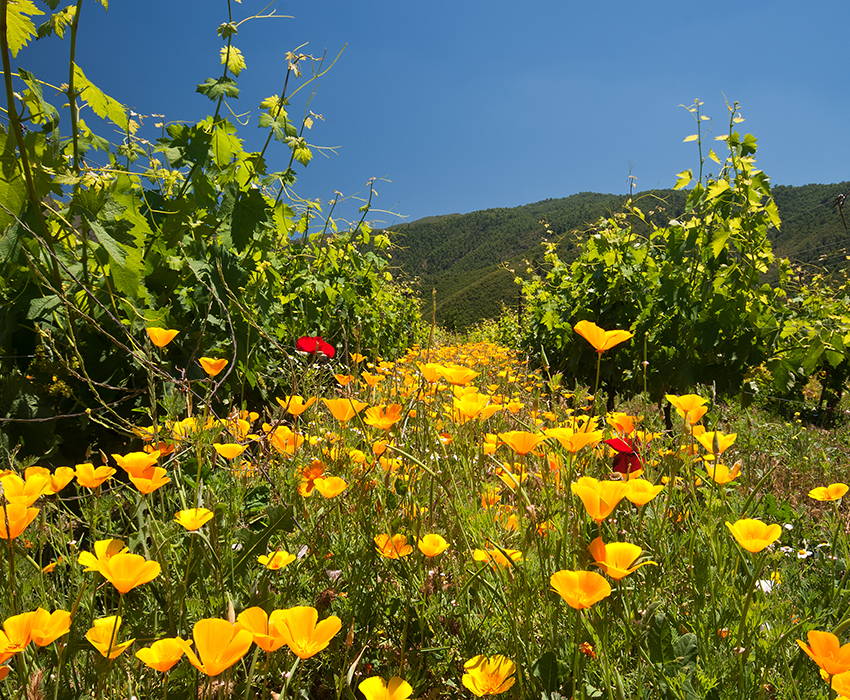 The homeland of the Chenin Blanc grape is the Loire Valley in northern France, where it is used to make the famous wines of Savennières and Vouvray. Outside France it plays a starring role in the white wines of South Africa, but very little is planted elsewhere in the world.
But Simon Waghorn believes in its suitability to the cool climate of Marlborough. As Sauvignon Blanc and Chenin Blanc are the two main grapes of the Loire Valley, they should equally thrive in Marlborough. With this Southern Valleys Chenin Blanc he makes a very convincing argument. But don't take my word for it, top wine critic Tom Doorley is a big admirer of this wine-
"This New Zealand Chenin Blanc is a stunner. Bone dry with trademark rapier-like acidity, it's a very grown-up white that can really cut richness and fat. I had no idea that the Kiwis could do this!"
- Tom Doorley, Irish Daily Mail, 06/09/2021
---
The O'Briens Annual Wine Sale runs until 26th September, with up to 50% off over 100 wines.
Available in our 34 stores nationwide and online at www.wine.ie, while stocks last.
---
Lorcan is O'Briens Wine Content Specialist, charged with spreading the wine word and keeping our customers and staff up to date with news of our wines and winemakers through his dedicated and passionate writing. Previously an O'Briens store Manager, Lorcan has written about wine in Ireland and Spain and is currently studying for the WSET Diploma. In his spare time Lorcan hosts wine tastings, blogs about wine and judges in wine competitions.
---
*Pricing correct at time of publishing. For the most up to date prices see our stores or website.