By Paul Barry | Assistant Beer & Spirit Buyer 
Time to celebrate all things Irish. There may be no parades this year, but you can still raise a toast with a premium Irish whiskey.
If you are planning on raising a glass over the next few days, then you are in luck as right now we have a fantastic range available in our Irish Whiskey Sale with over 50 Irish Whiskeys on offer and pricing starting at just €19.95 for Kilbeggan. Here is my quick pick of some of the big hitters in the line-up. Just some of the great value on show.
Jameson Black Barrel (Was €51.95/Now €35.00)
This has quickly become a 'go to' whiskey. Pot still whiskey aged on extra charred barrels resulting in increased body and richer flavour. Smooth and rich and just packed with exotic fruits, vanilla and toasted wood. A real crowd pleaser.
Knappogue 12 Year Old (Was €47.00/Now €35.00)
Single malt Irish Whiskey aged for 12 years in ex-bourbon casks. Produced by an independent bottler this offers an age statement whiskey at superb value for money. Rich yet mellow with biscuity tones matched with crunchy apple, candied tropical fruit and mild spice.
Green Spot Whiskey (Was €59.95/Now €50.00)
The Spot brand is synonymous with great liquid and this is one of Ireland's most recognised non-age- statement whiskeys, a pot still aged between 7 and 9 years with 25% aged in sherry cask. To taste this whiskey is just bursting with honeyed spice and orchard fruits.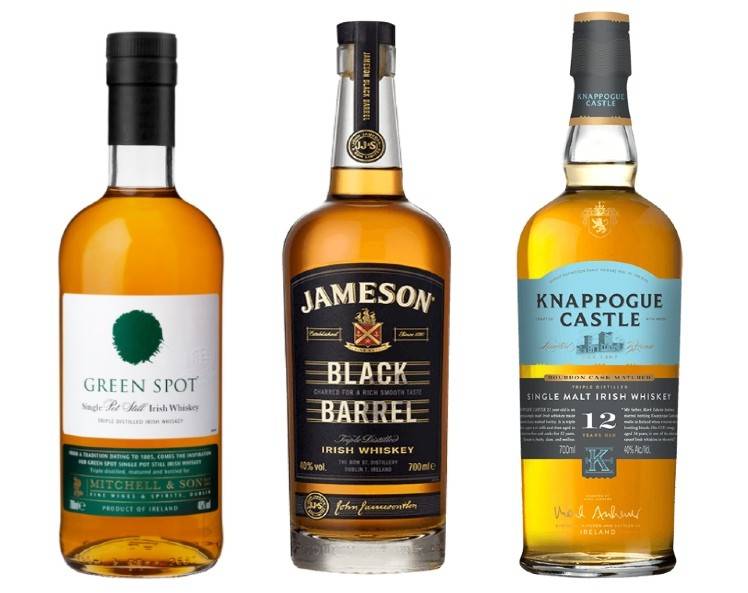 *Please note, prices are correct at time of publishing, please check our website or stores for the most up to date pricing.