By Lorcan O'Brien | Wine Content Specialist
Rioja is the most important wine region in Spain, with a winemaking history that pre-dates the arrival of the Ancient Romans. Rioja was the first region in Spain to obtain DO (Denominación de Origen) status in 1925 and is one of only two regions (along with Priorat) to have achieved the highest DOCa (Denominación de Origen Calificada) classification for Spanish wine.
Location and Climate...
Rioja is a landlocked wine region in the far north of Spain, 100km from the coast of Bilbao. The climate is typically Continental, with hot, dry summers followed by cold and wet winters. However, Rioja is a huge region spread over 160,000 acres, divided into three distinct subzones, so local regions can experience varying degrees of climatic influences from the Atlantic Ocean to the north and the large River Ebro that bisects the region.
Rioja is divided into the following three subzones:
Rioja Alta is the mountainous western part of Rioja. The famous Haro train station is located here, which opened up the entire region to export in the 19th century. The climate is varied, with a continental influence from the Meseta to the south, an Oceanic influence from the Atlantic to the north and a more Mediterranean influence from the River Ebro.
Rioja Alavesa is the rugged, mountainous region to the north of Rioja. It is the smallest of the sub-zones and the climate here is similar to that of Rioja Alta but has a greater influence from the Atlantic Ocean and the Cantabrian Mountains to the north.
Rioja Oriental (previously Baja) is the largest and most eastern subzone. It is typically flatter, hotter and dryer than Rioja Alta and Alavesa. Areas with higher elevation and proximity to the River Ebro enjoy a cooling effect in the vineyards and help with an even ripening of the grapes during the hot summer months.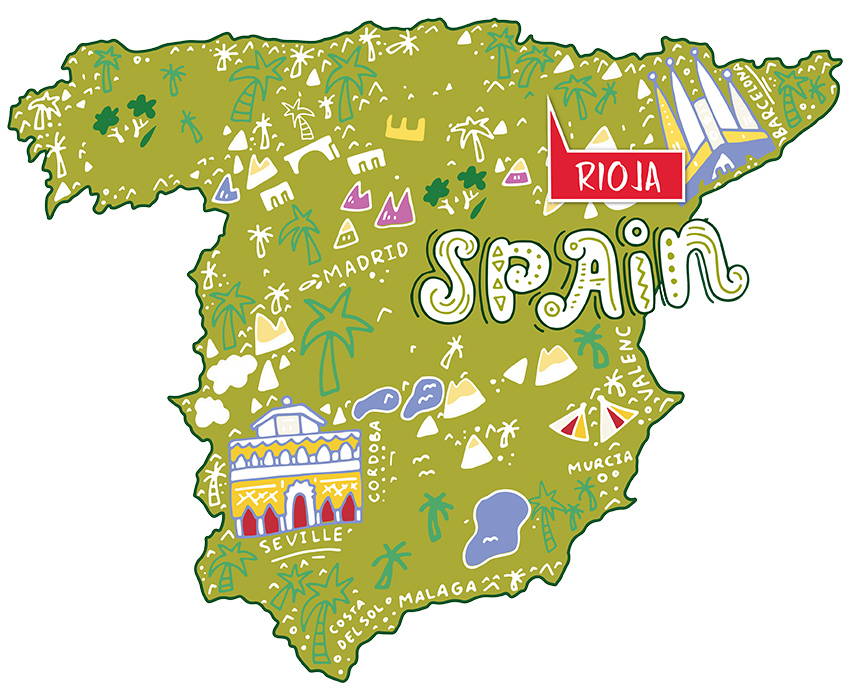 ---
Grape varieties and blending...
Rioja built its reputation on the quality of its red wines, with the most important grape variety being Tempranillo.
But did you know Rioja also makes excellent white wines?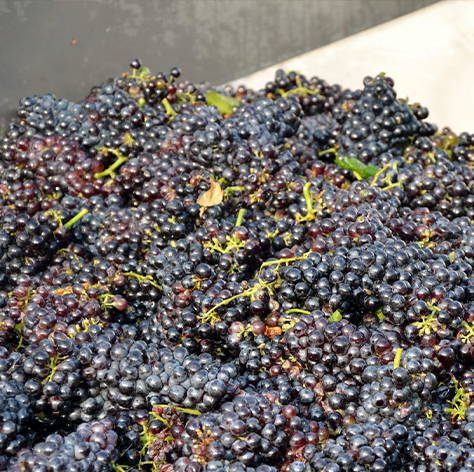 Black-skinned grape varieties make up over 90% of all Rioja's vineyard plantings and the undoubted king of the crop is Tempranillo, which accounts for over 85% of all vineyards. It is an ancient grape variety, found under many synonyms across the Iberian Peninsula, from Portugal's Douro Valley to Spain's high Meseta, but arguably makes its greatest expressions in Rioja.
Tempranillo is a relatively thin-skinned, early ripening grape variety that offers ripe red fruit flavours and tannic structure to a wine. It ages well in oak barrels and readily takes on a spiced, leathery complexity from contact with wood.
Tempranillo can make excellent single-varietal wines but will often be blended with other permitted black grape varieties, such as Grenache, Graciano and Mazuelo.
White Rioja makes up less than 10% of Rioja's production and is typically made with the Viura grape variety. As with the red the wines, Rioja Blanco is traditionally aged in American oak barrels.
---
What's In a Name? Rioja Styles...
The quality level for Rioja wines is traditionally linked to how long they spend in oak barrels. Traditionally these barrels were made from American oak but there is an increasing use of French oak.
From youngest to oldest, the classification for Rioja red wines are as follows:
Genérico: (previously Joven) young wines in their first or second year, rarely oaked, which keep their primary freshness and fruit.
Crianza:

wines which have spent two years ageing, a minimum of which must be one year in oak barrels.

Reserva: wines with a minimum ageing of three years, of which at least one year of this has to be in oak barrels, and at least 6 months in the bottle.
Gran Reserva: wines only produced in the best vintages. Aged for a total of sixty months, of which at least two years must be spent in oak barrels and two years in the bottle.
Did you know Rioja has the greatest number of oak barrels of any wine region in the world? 1.3 million at any one time!
Four Rioja to Try...
Not sure where to start with Rioja? These four wines come from historic bodegas and are made in classic Rioja styles, from an unoaked Tempranillo to a long-lived Gran Reserva.
RRP €14.95 NOW: €11.96 in Spanish Wine Sale
This comes from the iconic Bodegas Riojanas Monte Real estate and is the youngest and freshest wine in their range. The grapes come from vineyards planted in the hills of Rioja Alta. The altitude helps retain freshness and acidity.
As the name suggests, this wine is made with 100% Tempranillo grapes. It is unoaked and full of juicy strawberry and cherry flavours, making it the perfect introduction to the wines of Rioja. The tannins are barely noticeable, giving a silky, rounded palate.
Enjoy With: Young Rioja has the fresh fruit profile and bright acidity that makes it delicious slightly chilled (14°C) on a warm day. Enjoy with a light lunch, such as grilled sardines, vegetable paella or seafood risotto.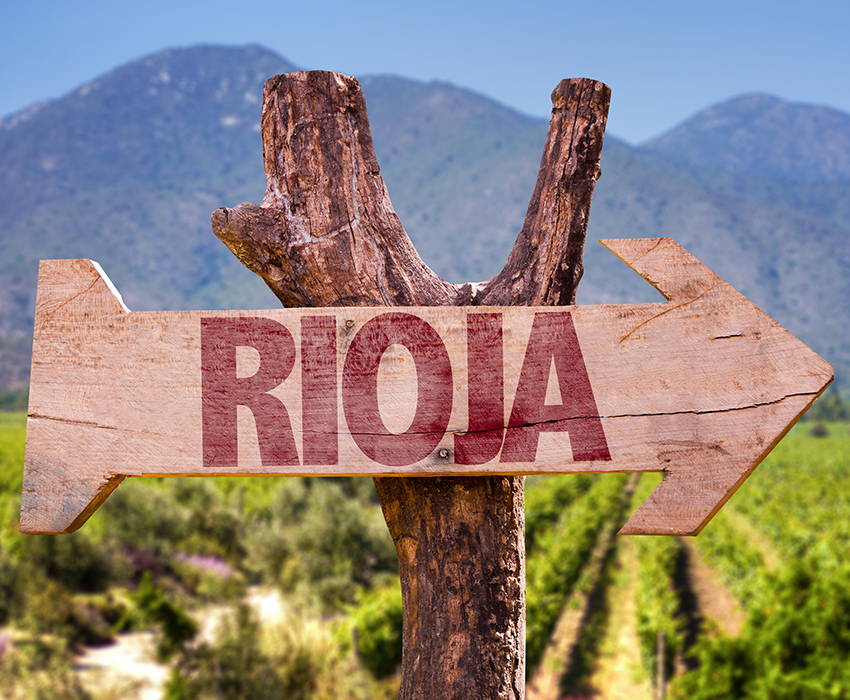 ---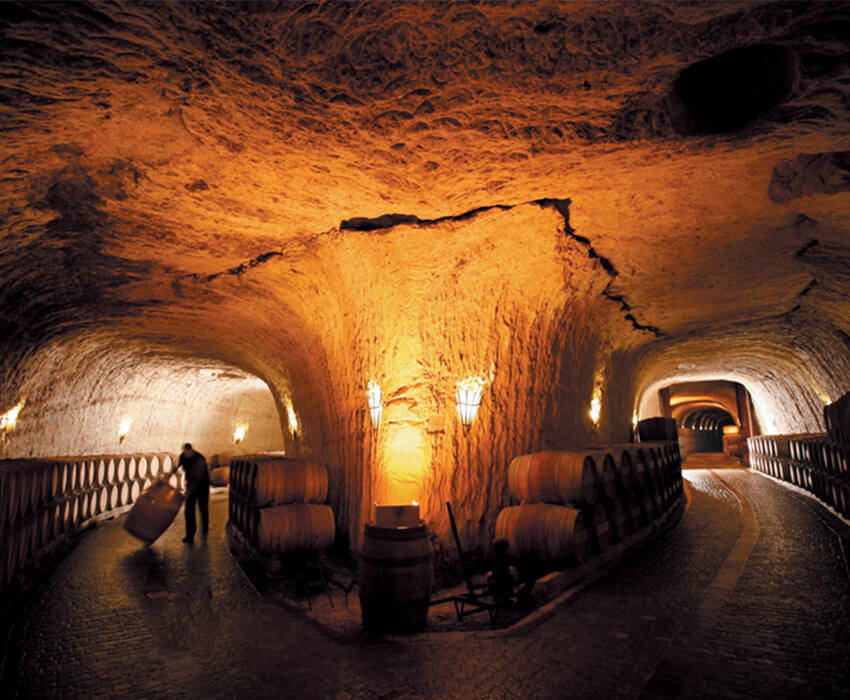 RRP €17.95 NOW: €14.36 in Spanish Wine Sale
Sierra Cantabria is a family Bodegas dating back to 1870 and takes its name from the nearby mountain range. Owner & winemaker, Marcus Eguren has made some of the most expensive and highly acclaimed wines in Spain and has a reputation for meticulous attention to detail and quality.
Sierra Cantabria Crianza has spent 14 months in oak barrels, followed by a further year resting in bottle in the winery's cellars.
Again, this wine is 100% Tempranillo, so expect intense cherry notes from the grape, complemented by a subtle toasty and cedar character from the oak ageing. This wine finishes beautifully with elegant spice and floral touches.
Enjoy With: The subtle oak and fresh purity of fruit would be delicious with a vegetarian BBQ. Think aubergine, caramelised onions and red peppers served with a grilled slice of salty Halloumi cheese covered in sesame seeds.
---
RRP €24.95 NOW: €19.96 in Spanish Wine Sale
Established in 1852, Marqués de Murrieta is a prestigious family-owned estate in the heart of Rioja Alta. Their Reserva is a complex blend, made primarily from Tempranillo grapes (87%), but with a dash each of the Graciano, Mazuelo and Garnacha grape varieties and aged in American oak barrels for two years.
Winemaker María Vargas focuses on reflecting the individual vineyard site and vintage. The Marqués de Murrieta Reserva has aromas and flavours of strawberries, cranberries and redcurrant jam along with thyme, laurel, pepper and Mediterranean herbs, the tannins are polished and supple.
Enjoy With: Rioja Reserva is a versatile wine style, pairing with a wide range of foods, from meatier fish dishes to traditional Spanish tapas. However, it is my go-to for lamb, or even better: slow-cooked shoulder of mutton. Sublime!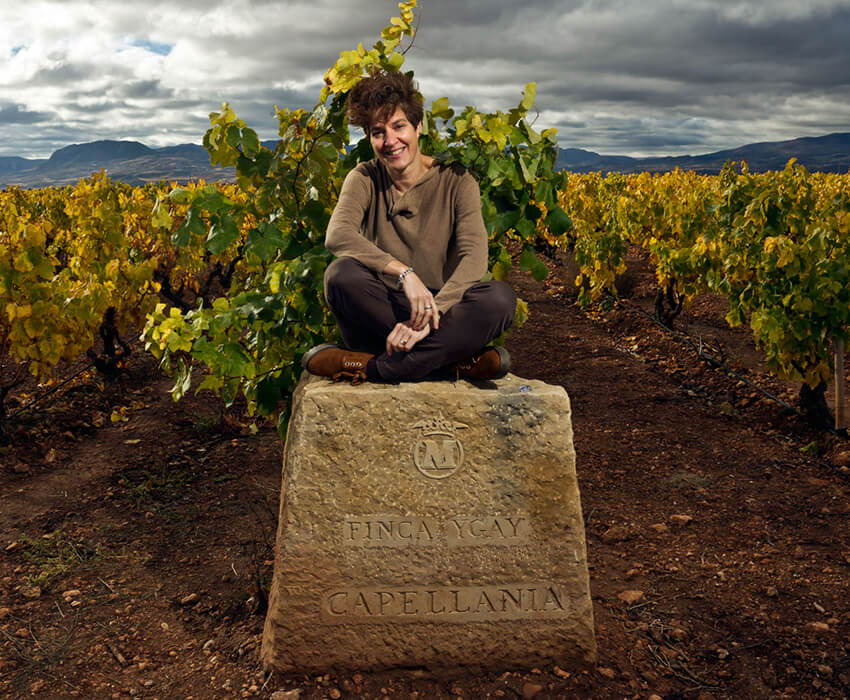 María Vargas, Winemaker Marqués de Murrieta
---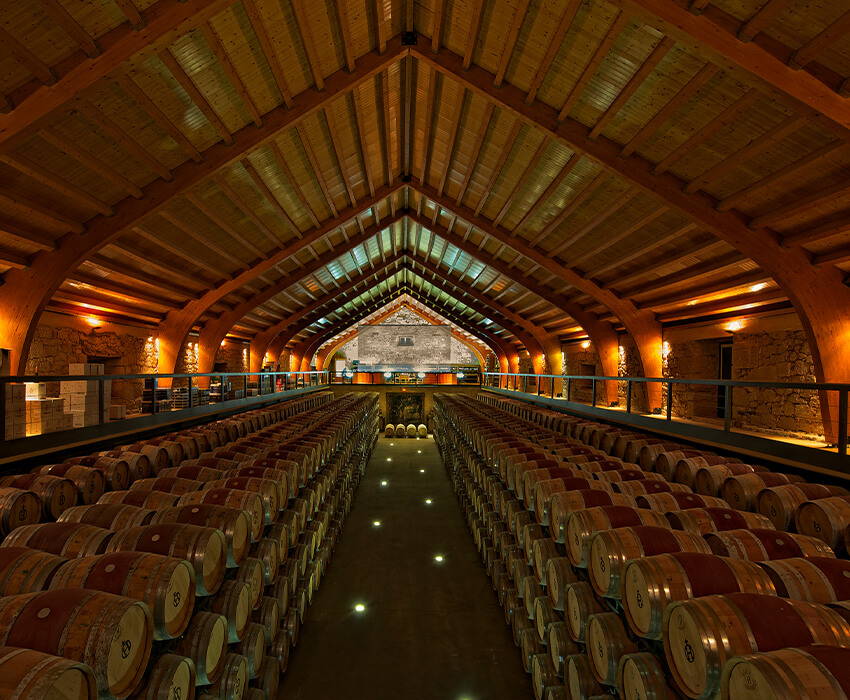 Federico Paternina Gran Reserva
RRP €24.95 NOW: €12.45 (Member's Club Exclusive- to avail of this offer, sign up HERE)
Bodegas Federico Paternina is another historical Bodegas, founded in 1896 and named after its original founder. This Gran Reserva is a blend of Tempranillo and Garnacha and by law must have been aged at least 5 years before release, so is perfect to drink now but will age graciously for many years to come.
Federico Paternina was aged for 24 months in American oak followed by three years in bottle in the winery's 16th century cellars. Expect a complex palate of sweet plums and bramble fruits and savoury notes underpinned by a touch of spice and gentle vanilla from the American oak.
At Half Price, this is an absolute steal.
Enjoy With: Although this wine still has good freshness of fruit, the typical savoury notes of leather, mushroom and cigar box are clearly evident from the long ageing in oak barrels, as is the good tannin profile. For me the best match for a good Gran Reserva is a quality Irish steak- a shared Côte de boeuf anyone?  
---
Lorcan is O'Briens Wine Content Specialist, charged with spreading the wine word and keeping our customers and staff up to date with news of our wines and winemakers through his dedicated and passionate writing. Previously an O'Briens store Manager, Lorcan has written about wine in Ireland and Spain and is currently studying for the WSET Diploma. In his spare time Lorcan hosts wine tastings, blogs about wine and judges in wine competitions.