By Lorcan O'Brien | Wine Content Specialist
The gastronomy of Italy is as complicated and diverse as its varied regional cultures, so the term 'Italian food' is a catch-all that encapsulates a vast range of dishes, from the Alpine-influenced cuisine of the north, to the Mediterranean dishes of the south and islands. So we have compiled the best Italian food and wine matches to help you live la dolce vita!
---
Ragù is one of the traditional dishes that is enjoyed all over Italy in some form, with the best known version being from Bologna: Spaghetti Bolognese. A traditional Italian ragú is very different to the tomato-based dish of our childhood in Ireland. As the late great chef Paulo Tullio used to repeat: it is a rich meat sauce with some tomato added, not a tomato sauce with some meat added.
Although regional recipes may vary, the basics of a good ragú is very slowly cooking local meats and soffritto in some liquid (including tomato), resulting in a wonderfully rich and flavoursome dish. Whether served directly over pasta or incorporated into a lasagna, it is worth taking your time over a ragù.
For a wine to pair with a ragù sauce, whether in a spaghetti bolognese or lasagna, it has to be able to stand up to the rich meat, sweet vegetables, starchy pasta and acidity of the tomato. For this I recommend a red wine with good fruit concentration and high acidity, such as the organic Musella Valpolicella Ripasso.
---
There are few things more relaxing than dining al fresco with friends around a big bowl of freshly made risotto, some crusty bread and a nice glass of chilled white wine.
As with all things Italian, there are many regional variations of risotto- from the earthy mushroom and truffle versions of central Umbria, to fresh seafood risotto along the coast. But for the ultimate risotto, try your hand at Risotto alla Milanese. Traditionally made with saffron and bone marrow, this is a deliciously creamy and decadent dish. And don't forget to make an extra portion of the rice so you can enjoy some cheeky Arancini (breadcrumb-covered deep fried rice balls!) the next day.
Risotto is creamy and rich, so pairing it with a zesty white wine is ideal for refreshing the palate. Our new Rizzardi Lugana would be the perfect accompaniment. Made from grapes grown near Lake Garda, it offers delicious citrus and orchard fruit flavours and bright acidity, ideal for cutting through the creamy texture of the rice. And wine writer, Tom Doorley agrees:
"Fairly old vines gives this Veneto white real character: floral, peachy, textured (thanks to ageing on the lees), a cracking match for risotto alla Milanese."
- Tom Dooley, The Mail On Sunday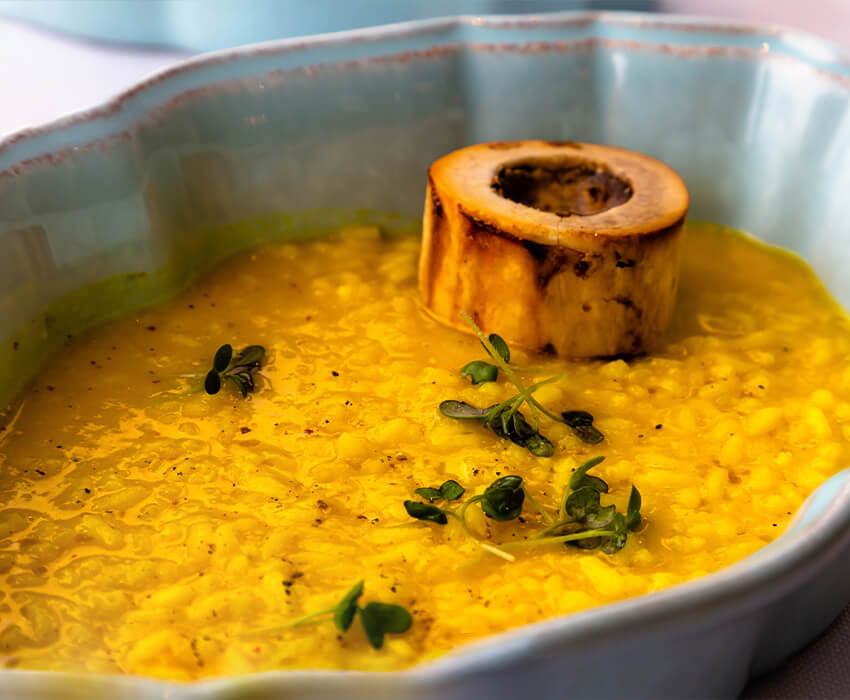 ---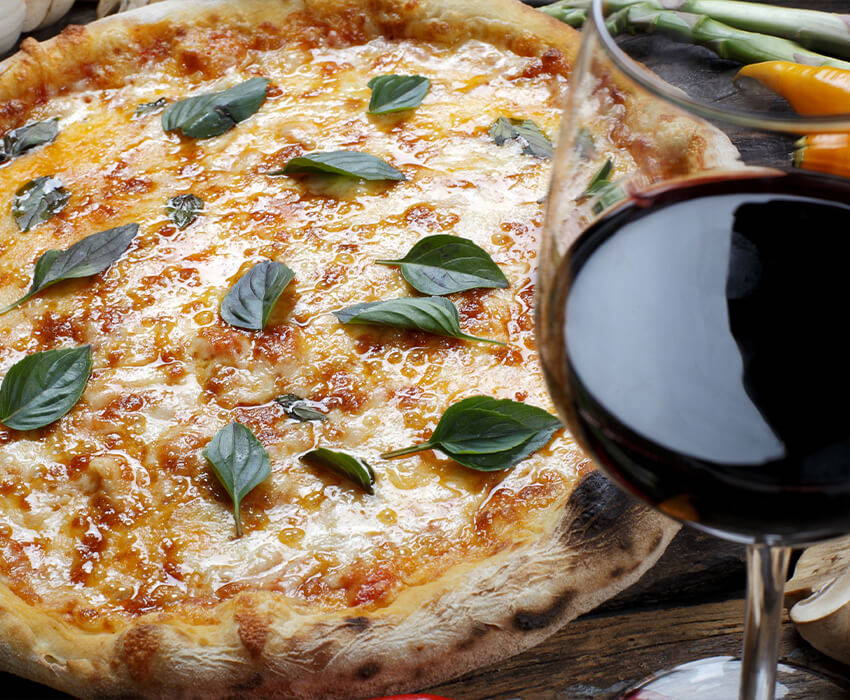 There are few dishes more synonymous with a country than pizza is with Italy. It was exported with Italian émigrés and now available the world over in a myriad of shapes and sizes. Although flat breads, topped with cheese and other simple ingredients, have been documented since ancient times, it wasn't until the arrival of the tomato in Europe that the modern pizza was born in Naples.
Originally it was a cheap form of street food in the city, but the humble pizza was elevated to fame after a visit by Queen Margherita of Savoy in 1889. Legend has it that the queen loved a simple pizza of basil, mozzarella and tomato (the colours of the flag of the recently unified Italian state) so much she awarded a royal seal to the pizza maker. In return, the pizza was forever more called the margherita. Although this is certainly an apocryphal tale, the provenance of Neapolitan pizza has been recognised by the EU since 2009.
Pizza is an uncomplicated dish that calls for a young, juicy style of red wine to pair. A young, juicy Sicilian red, such as the Nero Oro Appassimento has the bright red fruit flavours and silky tannins to make the perfect wine match for a classic Italian pizza.
---
My abiding memory of my first trip to Italy, over 30 years ago, is of a simple 'toasted tomato half-sandwich' that I insisted my parents ordered everywhere we went. At the time I was only 9 years old, so I didn't understand that bruschetta encapsulates all that is great about Italian food. The very best quality, seasonal ingredients simply combined- not too fussy but allowing the delicious ingredients speak for themselves.
Bruschetta is another one of those Italian 'peasant dishes' that has a long history and was simply a way for labourers to use day-old bread: baked and topped with olive oil and whatever else was to hand. As with pizza, it wasn't until the arrival of the tomato that the most commonly recognised version was born.
With good quality ingredients, bruschetta al pomodoro is a quick and simple dish that can be rustled up for an outdoor lunch and served with a delicious glass of textured white, such as the Terredora Greco di Tufo Loggia. Made on volcanic soils near Naples, this wine is defined by intriguing fragrances of white flowers and a palate of citrus fruit, pear and apple overlaid by subtle honey and a pleasant mineral sensation.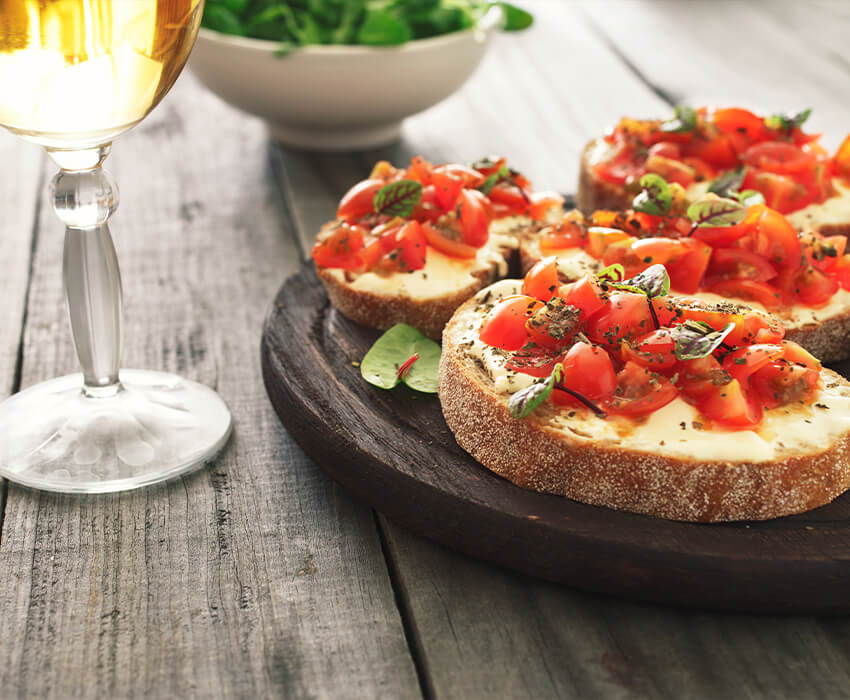 ---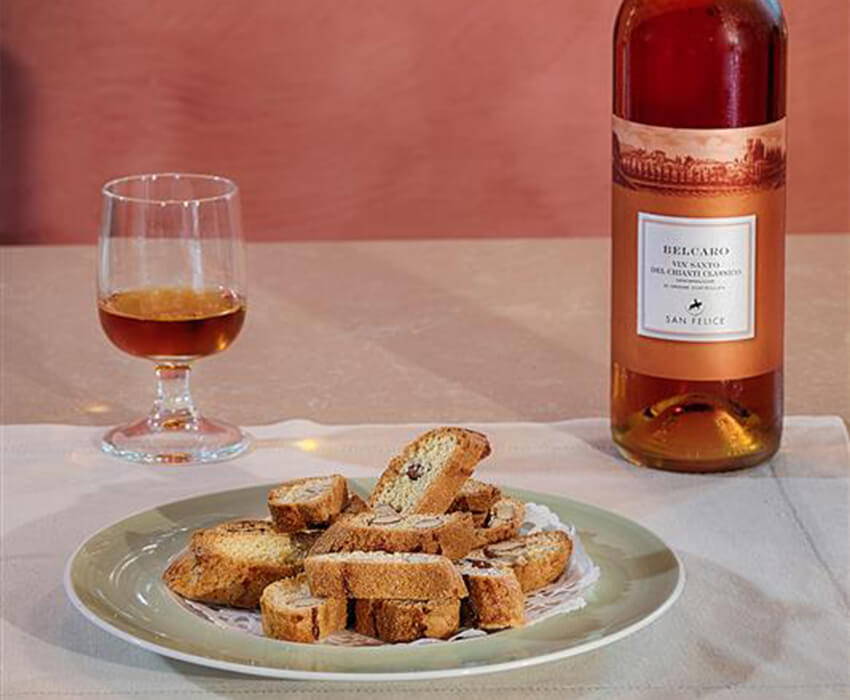 Dinner would not be complete in Italy without some form of a dessert. The most famous exports are tiramisu and cannoli, but a less elaborate, and equally satisfying, end to a good Italian meal is a simple biscotti or cantucci dipped in a small glass of Vin Santo.
This is a traditional sweet wine from Tuscany, typically made with the Trebbiano and Malvasia grape varieties. Belcaro Vin Santo is made by our long-time Tuscan partners San Felice. After harvest, the grapes are air dried on straw mats to concentrate the sugars and flavours. These raisined grapes are slowly fermented and then aged in small oak barrels in a Tuscan barn to develop intense flavours of candied orange peel, hazelnut and ripe orchard fruits. A luxurious dessert wine that pairs perfectly with almond-flavoured cantucci.
---
Lorcan is O'Briens Wine Content Specialist, charged with spreading the wine word and keeping our customers and staff up to date with news of our wines and winemakers through his dedicated and passionate writing. Previously an O'Briens store Manager, Lorcan has written about wine in Ireland and Spain and is currently studying for the WSET Diploma. In his spare time Lorcan hosts wine tastings, blogs about wine and judges in wine competitions.
---
*Pricing correct at time of publishing. For the most up to date prices see our stores or website.