By Lorcan O'Brien | Wine Content Specialist
The gastronomy of Italy is as complicated and diverse as its varied regional cultures. So, the term 'Italian food' is a catch-all that encapsulates a vast range of dishes, from the Alpine-influenced cuisine of the north, to the Mediterranean, African and near East dishes of the south and islands. So, we have compiled the best Italian food and wine matches to help you live la dolce vita!

We are delighted to introduce our brand new Ripasso, from the iconic family-owned Bertani estate, who have been making a classic range of northern Italian wines for over 150 years. Bertani Valpolicella Ripasso offers intense notes of ripe red fruits, blackcurrant, sweet spices, and chocolate. It is velvety and well-balanced, full, and round whilst maintaining a lively and intense grip and complex aftertaste.
It is the perfect accompaniment to a classic Ragù: one of the traditional dishes that is enjoyed all over Italy in some form. A traditional Italian ragù is very different to the tomato-based dish of our childhood in Ireland. As the late great chef Paulo Tullio used to repeat: it is a rich meat sauce with some tomato added, not a tomato sauce with some meat added.
For a wine to pair with a ragù sauce, whether in a spaghetti bolognese or lasagna, it has to be able to stand up to the rich meat, sweet vegetables, starchy pasta, and acidity of the tomato. A top-quality Ripasso such as this has the acidity, texture and bold fruit flavours necessary to make the perfect match.
---

There are few things more comforting than dining with friends around a big bowl of freshly made risotto, some crusty bread and a nice glass of chilled white wine. In Italy, one of the perfect wines matches for Risotto is Gavi, a Piedmontese wine made with the Cortese grape. This crisp and elegant example comes from our long-time winemaking partner Matteo Ascheri, whose family estate dates back to 1880. Ascheri Gavi di Gavi is a beautifully textured, medium-bodied wine with soft crunchy orchard fruit flavours of green apple, pear and a touch of peach and grapefruit on the long finish. The crisp acidity ensures this wine will pair well with a wide range of foods, including a classic Risotto.
As with all things Italian, there are many classic regional variations of risotto- from the earthy mushroom and truffle versions of central Umbria, to fresh seafood risotto along the coast. But for the ultimate risotto, try your hand at Risotto alla Milanese. Traditionally made with saffron and bone marrow, this is a deliciously creamy and decadent dish. And don't forget to make an extra portion of the rice so you can enjoy some cheeky Arancini (breadcrumb-covered deep fried rice balls!) the next day.
Risotto alla Milanese is intensely creamy and rich, so pairing it with a zesty white wine is ideal for refreshing the palate between forkfuls. Gavi is made in the north of Italy, where this dish originates, so it is the perfect companion.
In The Grape Press:
"Gavi is never a big wine, but it is a perfect tipple, either on its own or with all sorts of salads and shellfish. The Ascheri version is fresh and light, with delicate green-apple fruits and a snappy dry finish."
- John Wilson, TheIrishTimes.com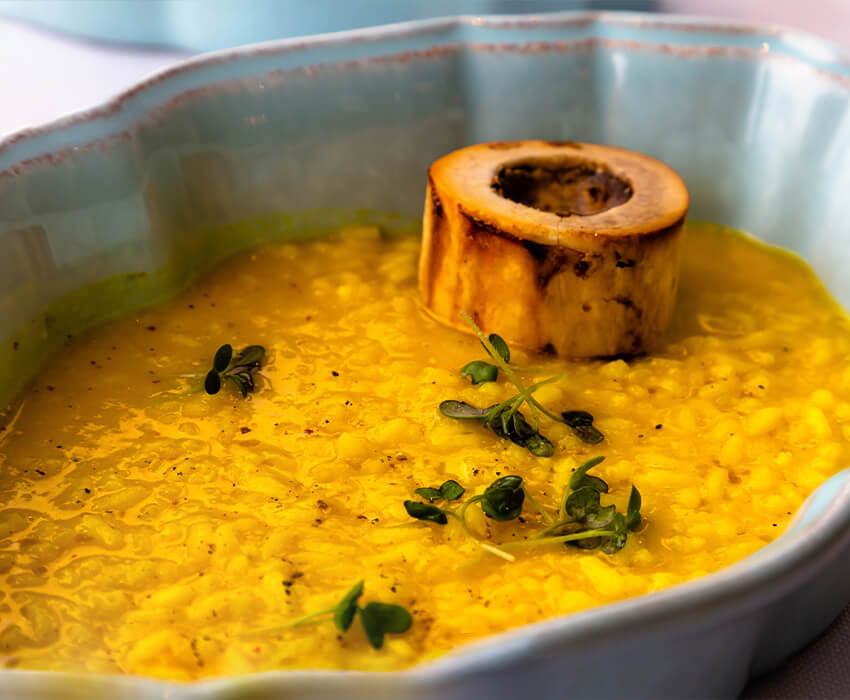 ---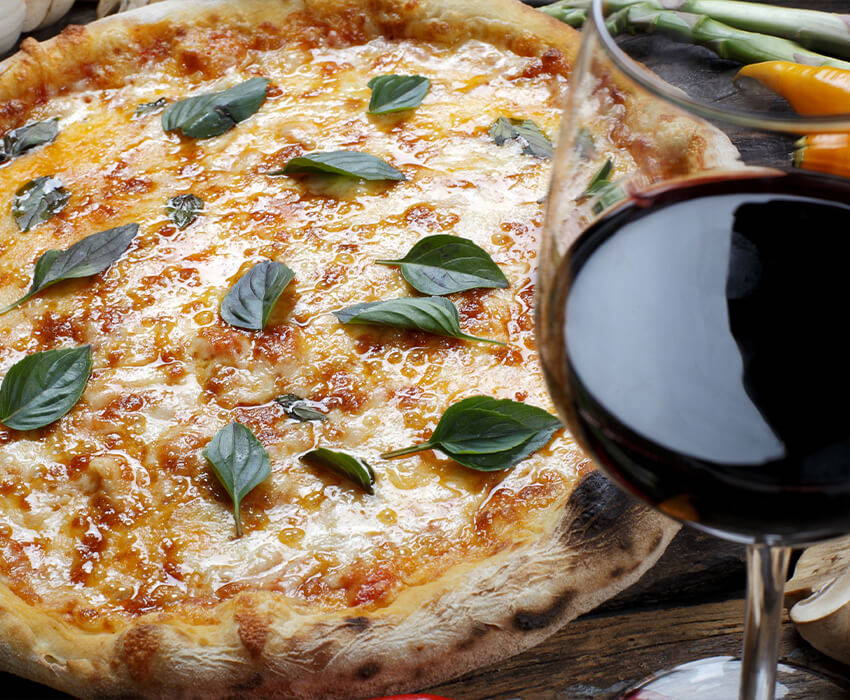 'Perfect Appassimento with Pizza'
RRP: €18.95 down to €12.95, Save €6.00

Luna Argenta is one of our most popular Italian wines. The grapes for the wine are grown in the hot southern Italian region of Puglia and they are semi-dried before fermentation. Using these partially-raisined grapes adds intensity and richeness to the wine. Expect intense aromas of crushed blackberry and cherry with notes of vanilla and cinnamon spice that follow through to the palate along with hints of mocha/chocolate.
For a treat night in, why not pair this with a good pizza for the full southern Italian lifestyle?
Pizza is an uncomplicated dish that calls for a young, vibrant style of red wine to pair and this Luna Argenta Appassimento makes the perfect match.
In The Grape Press:
"Not obviously sweet, medium to full-bodied with slightly pithy dark fruits, coffee and some tannins on the finish."
-John Wilson, The Irish Times
---

As with many Italian dishes, bruschetta started from humble, peasant beginnings, but showcases delicious, seasonal ingredients. Quick and simple, it is a dish that can be rustled up for lunch and best when served with a delicious glass of textured white, such as the Terredora Greco di Tufo Loggia. Made on volcanic soils near Naples, this wine is defined by intriguing fragrances of white flowers and a palate of citrus fruit, pear and apple overlaid by subtle honey and a pleasant mineral sensation. Br
In The Grape Press:
"A fresh, floral nose, crisp green fruits and almonds, finishing long and dry."
-John Wilson, The Irish Times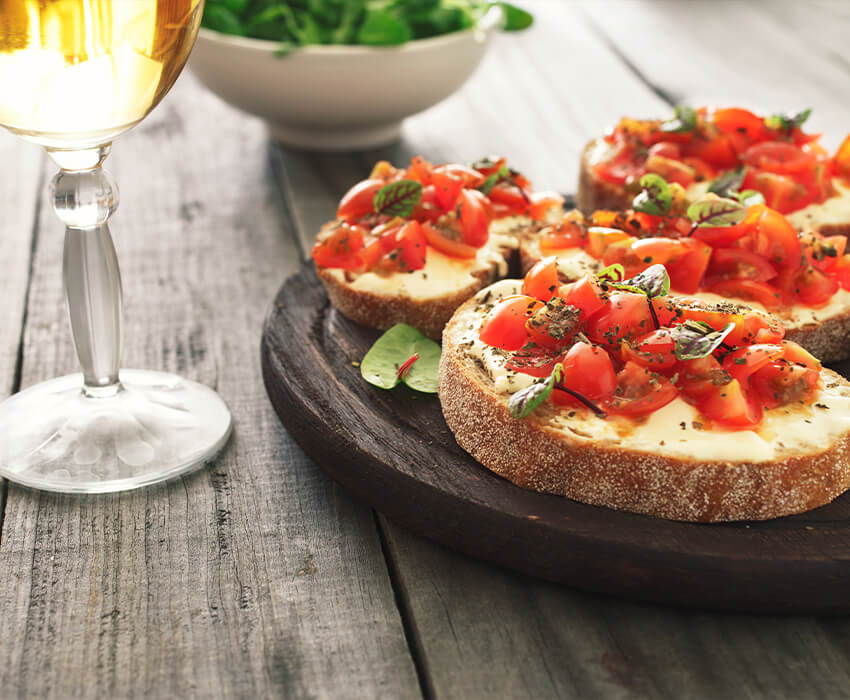 ---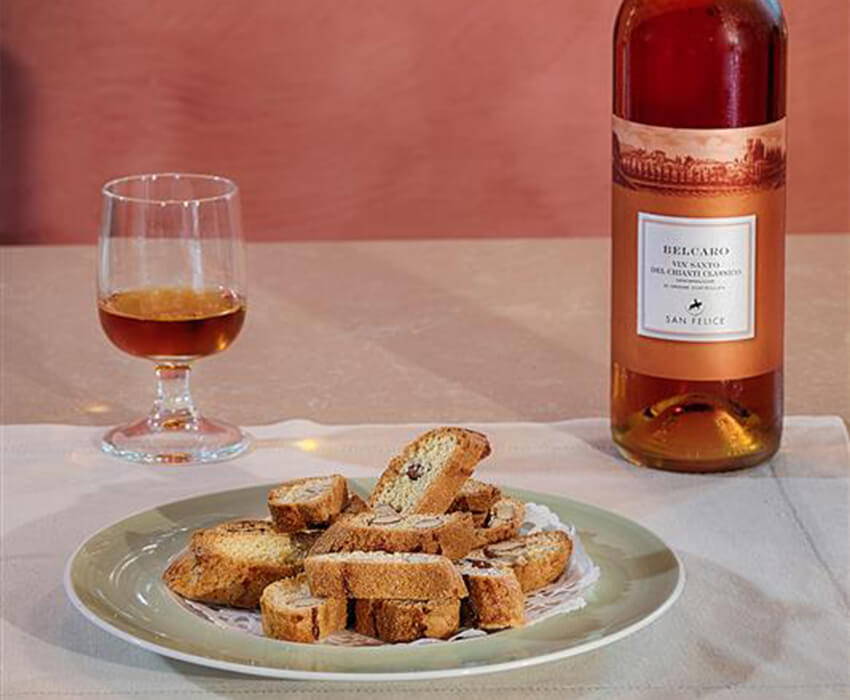 Dinner would not be complete in Italy without some form of a dessert. The most famous exports are tiramisu and cannoli, but a less elaborate, and equally satisfying, end to a good Italian meal is a simple biscotti or cantucci dipped in a small glass of Vin Santo.
This is a traditional sweet wine from Tuscany, typically made with the Trebbiano and Malvasia grape varieties. Belcaro Vin Santo is made by our long-time Tuscan partners San Felice. After harvest, the grapes are air dried on straw mats to concentrate the sugars and flavours. These raisined grapes are slowly fermented and then aged in small oak barrels in a Tuscan barn to develop intense flavours of candied orange peel, hazelnut and ripe orchard fruits. A luxurious dessert wine that pairs perfectly with almond-flavoured cantucci.
---
Lorcan is O'Briens Wine Content Specialist, charged with spreading the wine word and keeping our customers and staff up to date with news of our wines and winemakers through his dedicated and passionate writing. Previously an O'Briens store Manager, Lorcan has written about wine in Ireland and Spain and is currently studying for the WSET Diploma. In his spare time Lorcan hosts wine tastings, blogs about wine and judges in wine competitions.
---
*Pricing correct at time of publishing. For the most up to date prices please see our stores or website.